Wednesday, April 28, 2004 :::



Halleluiah, the day has come!


The Decemberists are coming to town! The Decemberists are coming to town! June 3rd at the 400 Bar! They are my current favorite band! Who wants to go? Nobody? None of y'all wants to go? Screw you bitches, man!




::: posted by dan at 4:27 PM :: [ link ] :: (0) comments





I obviously don't like Bush, but I don't think this video depicts an impeachable offense. I don't even think it's newsworthy. But I do think it's funny:

Bush uses woman as human kleenex.

The rest of the website has some semi-interesting stuff on it, too, but I think the author is a little too liberal extreme for his own good.

::: posted by dan at 1:37 PM :: [ link ] :: (0) comments



Tuesday, April 27, 2004 :::


At least he got a lollipop out of the deal. Stupid kids photos are my favorite. From Filepile.org:





::: posted by dan at 11:19 PM :: [ link ] :: (0) comments





I don't think that moving the grass indoors is the solution. In fact, I believe it defeats the whole purpose of housebreaking a dog in the first place.

Pet-A-Potty

::: posted by dan at 10:36 PM :: [ link ] :: (0) comments





B*Dub tipped me off to this awesome Onion article:

National Endowment For The Arts & Crafts Criticized For Funding Giant Macramé Penis

Just a taste:

The $15,000 grant in question was awarded last October to Detroit arts & craftsman Albert Kahle, 39, for a nine-foot macramé penis titled "Father (By Mother)," which is currently part of the Macramazement! exhibit at the prestigious National Gallery Of Arts & Crafts in Kansas City, MO.

"'Father (By Mother)' is neither art nor craft," House Majority Leader Tom DeLay (R-TX) said. "It's trash. The fact that American taxpayers are paying for this kind of lewd handiwork is outrageous."

"That piece is indecent, not to mention a shameful waste of beads," St. Louis resident Trent Billings said. "These so-called craftspeople are more interested in offending people than they are in making a nice gift that someone could hang up in their museum. I swear, half those knots are coming undone, and if the kitten appliques on "22 Pussy Potholders" were hand-embroidered, I'll eat my collection of Ukranian egg art."

::: posted by dan at 10:14 PM :: [ link ] :: (0) comments



Monday, April 26, 2004 :::


This is not me, but I am considering appropriating his hairdon't:

Dan Miller Media

But seriously, there's like ten different graphic designers named Dan Miller out there. Freaks me out a bit.

::: posted by dan at 2:35 PM :: [ link ] :: (0) comments




That his name is Maynard shouldn't surprise you.


I confess, I've been to two Star Trek conventions in my life (so far). Once as a curiosity, and I cannot even fathom an excuse as to why I attended the second one. I got to be in the same room as William Shatner, though, which probably counts for something with the hipsters. Anyway, there were a lot of dedicated fans out there, who were also very skilled at sewing and making costumes. Like this guy, who I'm sure has been to a Star Trek convention or two, and who really really really really likes Tron.

Check out his artistry.

::: posted by dan at 11:46 AM :: [ link ] :: (0) comments





Jennifer Garner from Alias, presumably aka Four Eyes, in her highschool yearbook photo. Guess she's 13 Going On... 14.




::: posted by dan at 10:52 AM :: [ link ] :: (0) comments





Man, there's a "subculture" for everything. If you can submerge your mind into the furthest depths of human depravity long enough to conceive of the most revolting fetish possible, you can bet it's already been subcultured. Not that I'm judging. Here's just one example.

From all over the web:
A 2003 British documentary, "Fat Girls and Feeders," debuting on Australian TV this month, profiled an Arizona couple, "Gina," once one of the world's largest women, and her husband, "Mark," who has a sensual or psychological desire that she be ever-larger. Because Gina is apparently comfortable with her role, Mark is merely an "enabler" in the "fat administration" subculture, but more dominant men are called "feeders," who may even "grow" their partners by pouring liquid fat down their throats. Gina once weighed 825 pounds, with a 92-inch waist, but had settled down at around 400.



::: posted by dan at 10:40 AM :: [ link ] :: (0) comments



Thursday, April 22, 2004 :::



Tracey Gold, watch yer back. Hellfire awaits.


Ummm, Kirk Cameron says I'm going to hell. No buts about it. This coming from a guy whose best friend's name was Boner. I thought Alan Thicke was the moral compass of Growing Pains?

How do you rate, in the eyes of Kirk?

WWKD?

::: posted by dan at 4:47 PM :: [ link ] :: (0) comments




Well, as long as it was done with a "tone of irreverence."


This is an old story, which everyone has probably heard, but I love the severity of it. Heavily paraphrased from MSNBC:

Children in audience watch as actor in rabbit costume whipped
...many parents and children got upset when a church trying to teach about Jesus' crucifixion performed an Easter show with actors whipping the Easter bunny and breaking eggs... People who attended Saturday's show at Glassport's memorial stadium [a community about 10 miles southeast of Pittsburgh] quoted performers as saying, "There is no Easter bunny," and described the show as being a demonstration of how Jesus was crucified.

Melissa Salzmann, who brought her 4-year-old son J.T., said the program was inappropriate for young children. "He was crying and asking me why the bunny was being whipped," Salzmann said.

...Performers broke eggs meant for an Easter egg hunt and also portrayed a drunken man and a self-mutilating woman...

Patty Bickerton, the youth minister at Glassport Assembly of God, said the performance wasn't meant to be offensive. Bickerton portrayed the Easter rabbit and said she tried to act with a tone of irreverence...

Well, at least she took the role seriously. There are no small roles, only small actors.



::: posted by dan at 4:21 PM :: [ link ] :: (0) comments




All night dance contests: The new crack.


From the AP:

Boys banned from class photo for refusing to cover "Easter pink" T-shirts
...Ensign Middle School principal Edward Wong pulled the boys from their eighth grade class portrait last week because he feared the color could be associated with gang-affiliated "dance crews," which hold all-night dance contests...

Gangster dance troupes in pink t-shirts? Oh, the times, they are a-changin'.


::: posted by dan at 4:09 PM :: [ link ] :: (0) comments




"And its rockin' like hell."


I was just curious about what part of the car the rhino was trying to penetrate, or if it was just squashed up against the windshield, which is fascinating to visualize, from the driver's point-of-view. From CNN:

Rhino gets amorous with car
Sharka, a two-ton white rhino, got amorous with Dave Alsop's car when he stopped with three friends to take pictures of the animal mating with his partner Trixie at the West Midland Safari Park... "He was a big boy and obviously aroused," Alsop told the Sun newspaper on Thursday. "He sidled up against us. The next thing I know he's banging away at the car and it's rocking like hell."


::: posted by dan at 11:43 AM :: [ link ] :: (0) comments



Wednesday, April 21, 2004 :::


Were they polling 10-year olds? I think it's funny that they used a bar of chocolate as bait.

From Wired:
Protecting one's computer password may not be as big a deal as the security paranoids would have you believe. An informal poll of commuters in a London tube station revealed that 70 percent of them were willing to share their computer password for a bar of chocolate.

::: posted by dan at 12:40 PM :: [ link ] :: (1) comments





Donnie Darko is one of my favorite movies ever, and I never got to see it in the theater. Hopefully they will play this extended re-release in Minneapolis so I can hear lines like "Sometimes I doubt your commitment to Sparkle Motion!" and "Chut up Cherita!" in awesome surround sound.

'Donnie Darko' to be re-released

His name is Frank.

::: posted by dan at 11:33 AM :: [ link ] :: (0) comments




Intelligence: not a terrorist's strong point.


An AIDS bomb? That's the stupidest thing I've ever heard. Ever.

Mideast Man Sought AIDS Bomb : Palestinian wanted to use explosive laced with HIV-tainted blood

::: posted by dan at 9:54 AM :: [ link ] :: (0) comments



Tuesday, April 20, 2004 :::



They built this city on rock, roll, and utter lameness.


Blender Magazine came out with a 50 worst songs of all time list. This is the magazine that once described the band Air Supply as "the sound of eunuchs sobbing," so it's fun to hear their opinions. Here is their top 10 of the worst, which I tend to agree with:

1. We Built This City - Starship 1985
2. Achy Breaky Heart - Billy Ray Cyrus 1992
3. Everybody Have Fun Tonight - Wang Chung 1986
4. Rollin' - Limpbizkit 2000
5. Ice Ice Baby - Vanilla Ice 1990
6. The Heart of Rock & Roll - Huey Lewis & The News 1984
7. Don't Worry, Be Happy - Bobby McFerrin 1988
8. Party All the Time - Eddie Murphy 1985
9. American Life - Madonna 2003
10. Ebony and Ivory - Paul McCartney, Stevie Wonder 1982



::: posted by dan at 12:13 PM :: [ link ] :: (0) comments





From CNN:

LOS ANGELES, California (Hollywood Reporter) -- Here! TV, a supplier of gay- and lesbian-oriented content to satellite customers via pay-per-view, is eyeing an October 1 lauch for a round-the-clock programming service that will feature classic and original films and TV shows ...Its slate of original movies includes "Deadly Skies," about a colonel thrown out of the military because of the "don't ask, don't tell" policy who saves the world from a killer asteroid...

Killer asteroid? Lame.



::: posted by dan at 11:58 AM :: [ link ] :: (0) comments



Monday, April 19, 2004 :::



I'm thoroughly disgusted by myself.


Apparently I joined a kick-ball team with my friend Geckler, who named the team The Greasy Cooters, after – ahem – Cooter from The Dukes of Hazzard, despite all my bemoaning. Then he actually made me design the logo for the uniforms. I finally gave into the pressure, against every fiber of my being and in spite of my revulsion, and created the artwork. It was Geckler's birthday, after all, and you can't deny a man of his subversively pornographic low-brow humor on his birthday. But I thought the logo turned out ok, vulgar or not. I'm quite talented:




::: posted by dan at 12:59 PM :: [ link ] :: (0) comments





My old desktop computer crashed three times last week, once even deciding to reformat the hard drive all on its own. It was a rough week of restoring and rebuilding before the final crash on Friday night when I gave up and ran out and bought the first laptop that met my spec standards. My only real concern is that I not get another Hewlett Packard, just because of my experience with the desktop, so I ended up getting... a Hewlett Packard. It wasn't my fault, normally I wouldn't ignore my own convictions with such disregard, but it was the only off-the-shelf laptop in town that had a gig of ram, a DVD+CD burner, a big screen, and a fast chip. And seeing as how I work on my computer daily, I couldn't wait a couple weeks to order one to my exact specifications.

But I'm super excited because I finally got a new laptop.
It looks like this, only without the wierd old man:



::: posted by dan at 12:54 PM :: [ link ] :: (0) comments



Wednesday, April 14, 2004 :::


Wired Online has a great article about how some readers are unable to understand that The Onion is satirical fake news, which sounds hard to believe (especially when recalling articles like the one about Taco Bell's new Contraceptimelt: The Morning After Burrito). But apparently it happens. I particularily liked the example of how Christian groups went nuts over the Onion story about J.K. Rowling's allegiance to Lord Satan. Awesome.

Read it.


::: posted by dan at 12:42 PM :: [ link ] :: (0) comments



Tuesday, April 13, 2004 :::


I was driving the other day and the truck in front of me had a bumper sticker that read:

"Vietnam Vets are Not Fonda Kerry."

It took me a while to understand the syntax because I didn't immediately realize that Fonda was supposed to be a pun for "fond of," and that it was somehow trying to connect that both Jane Fonda and Senator Kerry protested against the Vietnam war. I think that connection has always been a little too thin to warrant a bumper sticker, but I chuckled a little at first nonetheless. But then I got offended that this jackass was speaking on behalf of all Vietnam vets, a few of whom, I'm sure, are perfectly fonda Fonda. Not that I'm really pro-Kerry at this moment, but seeing as how Bush is obviously not an option and that Nadar has only gotten loopier over the past four years, it looks like I better start getting fonda Kerry. I'm probably preaching to the choir here because I doubt anyone who would read my site would even consider voting for Bush. But if you are considering it, then you seriously need to do a little soul searching post haste. Or read a newspaper or something, fer chrissakes.

::: posted by dan at 4:11 PM :: [ link ] :: (0) comments



Monday, April 12, 2004 :::



Perhaps just a wee bit inappropriate?


WELLINGTON, Ohio (AP) — State health officials expressed outrage last week over a scene displayed in a shop window to sell printing services. The display at Special Effects, a video and printing store in this northeast Ohio village, showed empty beer cans on the floor near an overturned table below dangling legs meant to look like a person who had hanged himself. On a nearby table was a short, scrawled suicide letter on a piece of notebook paper — and another note that was lengthy and professionally printed.

A sign read, "Contemplating suicide? Let Special Effects give your suicide note that professional look."


::: posted by dan at 12:19 PM :: [ link ] :: (0) comments



Thursday, April 08, 2004 :::



The Four C's of Diamond Buying : Color, Clarity, Cut, and Colon-Buffed


So you may have heard about the woman who tried to steal the diamond from the jewelry store by swallowing it, but got caught on video. Trashy, but it was this part of the story that I found intriguing:

"The ring was later recovered in a jailhouse commode, and will be sent to Littman Jewelers' corporate headquarters in Oregon to be melted down."

Melted down? Into what? Another diamond? Holy grody, because that means it's coming back around someday and I wouldn't ever want to be the recipient of that ring, no way, no how. I don't care how hot it gets while "melting down," that thing has still been swimming around in some skank's inner-ass.

::: posted by dan at 3:00 PM :: [ link ] :: (0) comments





Sure, this simple article is from a liberally-slanted website (despite their claim of non-partisanship), but it just helps to illustrate how far a politician will go in an election year in a desperate attempt to secure votes. Four years ago, Bush laughed at the idea of making the issue of gay marriage anything other than a state-decided issue, and now suddenly he's pushing for an amendment to the U.S. constitution? Well, it's hard to deny the disparity there. Why the sudden about-face? Could he be pandering to his right-wing demographic? Could he be trying to create an easier-to-control controversy in order to distract from the seemingly uncontrollable distaster he's created in Iraq? Or maybe he's just a jackass bastard? This is how politicians work, their true motivation is rarely the most obvious one.

Anyway, read about how he flip-flops. It's short, sweet, and to the point:
President Bush: Flip-Flopper-In-Chief

::: posted by dan at 2:19 PM :: [ link ] :: (0) comments





I don't like people who refuse to admit they like reality TV. Everybody likes at least a couple shows. Survivor is OK, American Idol is one of my weekly staples, and the original Mole was one of my favoritest shows ever, but this new Swan show kind of turned my stomach a bit when I first heard about it. Turning "average looking women" into beauty queens and thereby making all other average looking women feel bad about themselves? It just seems so shallow, vapid, and downright pathetic. This girl agrees and makes a good point. From Salon.com:

The funny thing is, it doesn't just make you depressed about plastic surgery and sad women and sleazy TV executives. It also makes you depressed about the war in Iraq, the frailty of the human ego, the undeniable soul-sucking lameness of our culture, and the impossibility for real beauty at a time when such confused animals roam the earth. "The Swan" is bad for you. It's bad for me. "The Swan" is bad. Openly reject those who discuss this show. Go ahead. Ostracize them. Limit their freedom of speech. Let the FCC roll its canons onto this battlefield. Why do bare tits outrage us more than this tragedy in motion?

You can read her whole article.

::: posted by dan at 1:38 PM :: [ link ] :: (0) comments





It's been reported in the news lately that Dick Cheney's wife, Lynne, wrote a feminist/chick-lit book in the 1980's called "Sisters" that apparently has some rather steamy lesbian undertones. Their own daughter, Mary, is a confirmed lesbian, and someone took it to themselves to review the book on her behalf on Amazon.com, which I think is super funny:

A touching tribute to the feminity that is lesbianism, March 25, 2004
Reviewer: Mary Cheney from A secure, undisclosed location
Being ruggedly masculine myself, I was touched to see that my mother does in fact understand the latent burning desires in every woman to discard the politically correctness of phallic worship and enjoy the tenderness that only another woman can offer. Makes every woman want to come out of the closet and shout! 4 stars!!

::: posted by dan at 9:13 AM :: [ link ] :: (0) comments




Naturally Stoned on Jesus


Once a year, my friend Furry and I make a pilgrimage to the St. Al's book sale, where an impressive selection of slightly used books can be found at rock-bottom prices. A couple years back, I made quite a find: Life's Greatest Trip, by Arthur Blessitt (and praise the lord, that's his real name). Inside its covers I found poetry and testaments from the author as he tries desperately to sway the wayward souls of circa 1960's flower children. Written in the "language of strung-out youth" (complete with a reference glossary for the unhip), this "hippy minister of Sunset Strip" tells it like it is, man. It's one of the greatest books I've ever read. So, I've been kind enough to scan some excerpts for you, and if you would be so kind as to read them, I'm sure you will enjoy it as much as I did. I think my personal favorite may be My Girl in the Cosa Nostra, although The Strip Trip is powerful in its own right.

I only scanned the best parts, and you really, really need to take a peek.




And to think it only cost me a quarter.
Not that I want to be sacrilegious on your easter holiday weekend by poking fun, but man, that dude was lame even for the sixties.

::: posted by dan at 12:00 AM :: [ link ] :: (0) comments



Wednesday, April 07, 2004 :::


So Rory and Paris are supposed to kiss on the next episode. Lesbian kisses are so 1995. Please don't let this be the beginning of the end for the Gilmore Girls. My favorite show cannot jump the shark this soon. I'm sure it is more of a comic kiss, along the lines of Roseanne and Margeaux Hemmingway over a decade ago, which shouldn't even count as newsworthy, but still.

Oh, and one of my favorite bands, The Shins, are going to be on the episode as well. Spring Break! Yehaw!

::: posted by dan at 12:57 PM :: [ link ] :: (0) comments





In my Christmas stocking this year, I got some Day Use No-Crack Super Hand Cream. Me and my cracked knuckles think there is nothing super about it. Even after four months of continuous daily use, I still have the hands of a longshoreman, see:




Ouchy. Thanks for nuthin', Santa.

::: posted by dan at 9:36 AM :: [ link ] :: (0) comments



Tuesday, April 06, 2004 :::



Return of the Miller Five (Sometimes Six)


No, we haven't reunited the band (although if I ever get my hands on a good piano...), but while rummaging through my mom's crusty, unkempt photo album collection I discovered four new Miller Five photos. So I generously updated the Official Miller Five (Sometimes Six) Tribute Site.

Not much has changed, but you can view it again here.
Updated pages are noted.

::: posted by dan at 3:49 PM :: [ link ] :: (0) comments



Monday, April 05, 2004 :::


Some churchy dude in England is trying to make mass hip again with poorly integrated pop culture influences:

Churchgoers at All Saints Church in Kesgrave, northeast of London, have been invited to attend four classes from the end of April on each of the four main Simpson family members ? Homer, Marge, Bart and Lisa... Reverend Spittle says that each episode had Christian themes, even though Homer once described his religion as "you know, the one with all the well-meaning rules that don't work in real life. Uh, Christianity."

I also wonder if the reverend remembers this exchange from the episode where a newly-smart Homer disproves the existence of God:

Homer: Hey, Flanders, heading for church? Well, I thought I could save you a little time.
Ned: Oooh, found a new shortcut?
Homer: Better. I was working on a flat tax proposal and I accidentally proved there's no God. [shows Flanders a sheet of paper with complex figuring on it]
Ned: [flustered] We'll just see about that. [reads the paper] Uh-oh. Well, maybe he made a mistake. [checks it again] Nope, it's airtight. Can't let this little doozy get out. [he uses a lighter to burn the "proof", while in the background, Homer puts more copies of his no-God paper on the windshields of nearby cars as he whistles the Battle Hymn of the Republic]


::: posted by dan at 1:46 PM :: [ link ] :: (0) comments





Bush has outspent Kerry, when it comes to television advertisements, many times over. Tens of millions. The ads have been said to be responsible for Kerry's recent slide in the polls, where he previously had a slight edge. This is because people are stupid and believe the ads, which are obviously not from an independent source and politically biased to a fault (duh). This, of course, should be no surprise to anyone, but just in case you want some real statistics, from the American City Business Journal:

-- Nearly two-thirds of nation's 100 largest labor markets -- 63 of 100 -- had fewer jobs in 2003 than in 2000, the final year of Bill Clinton's administration. The collective loss in those 63 markets was roughly 2.1 million jobs, which was larger than the total national decline.

-- Seventy-nine of the top 100 metros posted slower job-growth rates during Bush's first three years than under any of his three predecessors: Clinton, George H.W. Bush or Ronald Reagan.

-- Ninety-nine of the 100 largest markets had worse employment records under George W. Bush than Clinton. The sole exception was Honolulu.

You can't realistically blame Bush for all of that, but if he acted like an actual experienced leader and put his priorities in the right place, then perhaps many of those stats wouldn't look so damning. Of course, if you're an upper-middle-class white person, you probably weren't affected by any of that, so why should you care?

::: posted by dan at 10:40 AM :: [ link ] :: (0) comments



Friday, April 02, 2004 :::


A return to fan fiction on planetdan. Dirty fan fiction. My friend B-Dub's cousin or relative or something draws some suggestive pictures of the Lord Of the Rings characters in compromising positions. Many have accompanying stories written by over-zealous fans. Probably not really suitable for work, but you can't deny it's an interesting fetish/hobby. Elijah Wood probably doesn't appreciate it. Or maybe he does.

Check them out.

::: posted by dan at 9:22 PM :: [ link ] :: (0) comments



Thursday, April 01, 2004 :::


Keep your eyes peeled. Let me know if you hear of any piano opportunities. Everybody knows somebody who doesn't want a piano. It's like six degrees of separation, only for string instruments.

::: posted by dan at 11:30 AM :: [ link ] :: (0) comments




Dr. Atkin's widow's pupils have officially morphed into dollar signs.


I think low-carb diets are a ridiculous fad and the bandwagon is overloaded with restaurants and food manufacturers all buying into the craze. This example is beyond all boundaries in a frenzy that has already gone on too far. Proctor & Gamble's new marketing campaign urges dieters to buy Metamucil to "Stay regular. The 0 net carb way."

Seriously. Here is an actual screenshot of their homepage: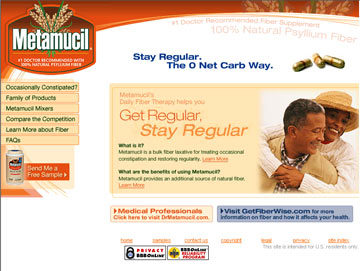 ::: posted by dan at 10:32 AM :: [ link ] :: (0) comments


reviews
music
movies
books

sections
planetdan home
planetdan blog
dan's pics
fun junk
my atom/rss feed

recently
Vote Lombard!
Final Destination: Death by Homeownership
Happy Halloween!
Animated Friday (Pets: A Two Parter Edition)!
All Swine Flu-ed Out
Animated Friday (Pets: A Two Parter Edition)!
C.S.I. B.S.!
Autographed!
Stoked & Juked
Back to Normal

friends
erik
jason mulgrew
beware of the blog
nyc babylon
nofo
sista c
b stacy b
trek geek scott
second toughest
sarah
furry
pierre
and far away
chez lynne
peacebang
the big lug
little voice
desimon
monkey

others
the superficial
stereogum
boing boing
golden fiddle
girls are pretty
mcsweeneys
grow-a-brain
more cow bell
presurfer
world of wonder
worth1000
elbows

email
dan@planetdan.net

archive



some ads